On Saturday, August 2, Dale Neumann was convicted of second degree murder for praying instead of calling an ambulance. "Reckless homicide" is the official charge, following the death of his daughter Madeline (also known by her middle name Kara), who died as a result of undiagnosed diabetes and lack of medical care. When Madeline grew ill, Neumann and his wife Leilani – convicted of the same charge earlier this year – prayed (they are pictured at right). When she grew worse, he refused to call an ambulance, believing that God would heal her. The couple now faces 25 years in prison.
TimesOnline reports that Madeline was "so ill she was unable to walk, talk, eat or drink but instead of taking her to hospital, the Neumanns prayed at Madeline's side as she died on the floor of their rural home in Wisconsin," in 2003.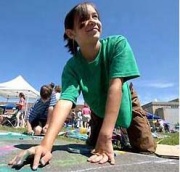 At his hearing Neumann said that he believed God would heal his daughter. "God promises in the Bible to heal. If I go to the doctor I am putting the doctor before God" and "I am not believing what [God] said he would do," he declared.
Standing before the courtroom "with his Bible in his hand" he "took jurors on a four-hour description of his journey from life as a young man who partied and drank hard to a family man who sought to walk in the steps of Jesus." He quoted the Bible and spoke with "great conviction," "making it obvious that he had no regrets about his decision" to pray for Madeline instead of getting her medical attention. "If in a moment of crisis and in a moment of time, I went to anyone else but the Lord, it would not have been favorable to God," reports ReligiousNewsBlog.
Medical doctors were called on to testify that Madeline (pictured at left) "would have had a good chance of survival if she had received medical care, including insulin and fluids, before she stopped breathing," according to TimesOnline.
Dale Neumann's prosecutor told the jury that Neumann's interpretation of the Bible implied he was "overwhelmed by pride," that he "selfishly let Madeline die as a test of faith," and that he is no different than a drunken driver who claims he only had a couple of beers.
Neumann's lawyer responded that because he "sincerely believed" in prayer, "he did nothing criminally wrong." "He was administering faith healing" and he "thought it was working," but of course the praying didn't work, continued defense attorney Kronenwetter. "He was terribly wrong and no one feels that more than Dale Neumann."
Because this is the first Wisconsin faith healing case involving the charge of homicide, many observers are wondering how the Neumanns will fare at their October 6 sentencing.
Wisconsin Rapids Tribune questions how the sentencing will unfold. How will the couple be perceived by Marathon County Judge Vincent Howard? Will they be treated as "negligent and uncaring parents" or as "devout Christians who were faithful to their convictions and already have been punished by the loss of their child" as their defense attorney argues?
The difficulty of interpreting laws related to this case, alongside the fact that the Neumanns have three remaining teenagers, are reasons both Dale and Leilani plan to appeal their convictions. And some think these factors may lessen their punishment. Regardless, results of the Oct. 6 sentencing are up to Judge Howard, who will "determine how culpable the Neumanns are in the death of their child." But what how will the judge weigh the parents' faith in light of the facts that led to Madeline's death?
Some were concerned about the Neumanns' beliefs long before Madeline's death. The family had moved to Wisconsin and opened Monkey Mo's Coffee Shop in 2007, where they "were known as a happy family who held Bible study sessions and served up coffee and other tasty treats," reports Wisconsin Rapids Tribune.
Althena Wormgoor, now "former friend" of the Neumann's, was a member of their weekly Bible study. Wormgoor testified at Leilani's trial earlier this year. She said that she had moved with her husband and four children to Wisconsin in January 2008 "to start a second coffee business with" the Neumanns and "participate in their weekly Bible studies." But by early March she and her husband realized they disagreed with the Neumanns over both the business and their beliefs in "faith healing," reports ReligionNewsBlog.
Wormgoor testified that she disagreed with the Neumann's belief that "sin caused sickness." She also worried that they "focused a lot on demons." "Once, when one of their sons got sick, Leilani thought his vomiting was to rid his body of demons," she said.
She recalled the day that Madeline died. Leilani had "urged" the Wormgoors to come to the Neumann's house, "saying Madeline was on the floor, not talking, eating or drinking." They went. Upon arrival they joined the Neumanns in praying for Madeline. But at one point in the prayer Leilani "raised her hands in the air, calling her daughter's illness a test of faith and a chance for God to show his power," she noted. Leilani then said that her daughter's breathing appeared to be getting better. Wormgoor did not agree. "To me, it looked like she was gasping for air. It was a twitch that scared me – I panicked," she told the court. Wormgoor then ran to the phone to call 911, but her husband got to the phone first and made the call, she lamented. With the agreement of Dr. Heong P'ng, Leilani's attorney noted that there is an ease in "labored breathing" just before persons with Madeline's illness die, and this can make it appear that the patient is improving.
Dr. Ivan Zador, a pediatric endocrinologist who specializes in diabetes, also testified at Leilani's trial. After reviewing Madeline's medical records, he said there is a 99.8 percent survival rate for people with the complication of diabetes that killed her – if they get treatment. He also noted that Madeline could have been saved "very late into the day of her death."
After Madeline's death Police Chief Dan Vergin reported that "Dale and Leilani Neumann believe she died because they apparently didn't have enough faith."
Related Links
ABC News article
TimesOnline article
BBC News article
Wisconsin Rapids Tribune article