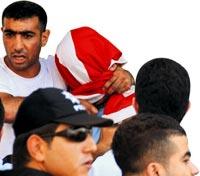 Nationalism and religious extremism have collided in an Islam-Patriotism versus Christian-evangelism showdown between two friends. Recently in Istanbul, a Turkish Christian was held hostage at knife point by a Turkish Muslim who threatened to slit his throat because his conversion to Christianity was a threat to the "Turkish flag." Compass Direct News reports that nationalism and Islamic extremism motivated the incident and may be behind other such incidents.
The young Muslim, 24-year-old Yasin Karasu, held Christian convert Ysmail Aydin hostage "in a busy district on the Asian side of Istanbul" in broad daylight in front of a crowd. Karasu called Aydin a "missionary dog" while holding a knife to his throat and threatening to kill him. "This is Turkey, and you can't hand out gospels," he yelled. "These godless ones without the true book are doing missionary work," he continued. Turkey's population is reportedly "about 99 percent" Muslim, and most Turks consider Islam to be "strongly connected with being Turkish," notes Compass News.
The mixture of nationalism and religious extremism was evident in the role of the Turkish flag in this incident. Reportedly, while holding a knife to Aydin's throat, "he commanded those watching to give him a Turkish flag." And within minutes "bystanders produced two flags." Then Karasu wrapped one of the flags around Aydin's head so tightly that he could hardly breath. "Do you see this missionary dog?" he yelled at the crowd. "He is handing out gospels and he is breaking up the country." Then he forced Aydin to hold and wave the second Turkish flag he had received from Turkish spectators: "You missionary dogs, do you see this flag?" he said, commanding Aydin to wave the flag. "This is a holy flag washed in the blood of our fathers."
The two have known one another for over a year, according to news sources. And when Karasu told Aydin to wave the flag, Aydin responded, "this flag is mine as well! I'm a Turk too, but I'm a Christian." This led to an argument as Karasu continued to hold a knife to Aydin's throat. Because Aydin was evangelizing on behalf of Christianity, Karasu accused him of betraying Turkish patriotism. Aydin's reply to this charge was "I'm a Turk and I'm waving this flag with love. This is my flag. I'm a Turk." Karasu replied, "No, you can't be – you are breaking up the country, and I won't allow it." Police arrived and encouraged Karasu to let Aydin go, telling him that if he killed the convert Turkey would be ridiculed around the world. "If you love this country, leave the man," they said.
Aydin later told reporters that he "never would have believed that Karasu would do such a thing." The interaction between the two men grows more intriguing considering their past interaction. About a year ago, when Karasu learned that Aydin had converted to Christianity, he would call him to "ask questions and talk" saying he was interested in other religions. "He would call me often, because while in the army he was really depressed and he would often call me to tell me," recalled Aydin.
Compass reports that Karasu called Aydin when he was released from the Army, and that "the two planned to meet at a Protestant church in the district of Kadikoy," where they drank tea alone and talked in the church basement. Aydin recalles that he looked well and happy; "he was smiling," "he was talking comfortably," "I was so surprised!"
Aydin now wonders why Karasu's behavior was inconsistent, and marvels that after their conversation at the church, Karasu thanked him. Then, when the two walked upstairs from the basement, Karasu "violently grabbed" Aydin and threatened him. Aydin thought it was a joke. "What joke!" said Karasu as he produced a knife; "You're a missionary dog, and I've come to cut your throat."
Aydin says that Karasu "planned to make an example of him in the eyes of the nation by killing him in public." Then Karasu led Aydin down to a busy intersection. During the walk Aydin marveled at another surprise – the apathy of the passersby. "I had the impression that we were playing a part in a film. Not a single person on the way down tried to stop him or told him to stop. They just all looked on with consternation," he said. Then, within two minutes, police and television reporters arrived. "How quick was that?" he said. "I was surprised."
The unlikelihood that television crews could have arrived so quickly has led to the suspicion that "it may have been an act of propaganda to frighten Turkey's small Protestant community, most of whom are converts from Islam." Aydin is not pressing charges. He told reporters that he has forgiven Karasu for the incident.
Compass reports similar incidents recently unfolding in Turkey.
In February 2006 an Italian Catholic priest was killed in the Black Sea coastal town of Trabzon, and Armenian Christian editor Hrant Dink was shot in front of the weekly Agos three months before three Christians, two Turks, and a German were killed in Malatya in April 2007.
Last month a German businessman was also murdered for being a Christian on a busy Istanbul street.
All murders were committed by Turkish men in their 20s.
Sabah, calling this incident "missionary madness," also notes similar incidents.
February 5th, 2006, Trabzon: Andrea Santoro, a nun in the Santa Maria Catholic Church, was murdered while praying.
July 2nd, 2006, Samsun: Priest Pierre Brunissen of the Italian Catholic Church was wounded in his hip in a knife attack.
December 17th, 2007, Izmir: Nun Adriana Francini of the Karsiyaka Saint Antoine Church was stabbed.
April 18th, 2007, Malatya: Tilman Geske, Necati Aydin, and Ugur Yuksel were killed in the Zirve Publishing House Massacre for passing out bibles.
Links for Further Information
Compass Direct News article
Sabah article