On February 23rd, the Task Force on Religion and the Making of U.S. Foreign Policy met with the White House's Joshua DuBois, the head of the Office of Faith-Based and Neighborhood Partnerships, and State Department officials to present their recommendations for resolving a deficit in American foreign policy. According to the task force, this deficit results from foreign policy that "is handicapped by a narrow, ill-informed, and uncompromising Western secularism" that feeds religious extremism, threatens traditional cultures and fails to encourage religious groups that promote peace and human rights," as David Waters of The Washington Post reports.
In a time when religious forces are having a greater impact on governmental affairs across the globe, the task force concludes that U.S. policy makers and governmental agencies carrying out actions on foreign soil must be more knowledgeable about respective religious forces at play. Government officials must have "detailed knowledge of religious communities, leaders and trends" in order to recognize "understand and respond to religiously inspired actors and events in a way that supports those doing good, while isolating those that invoke the sacred to sow violence and confusion," as Dennis Sadowski records for the U.S. Catholic.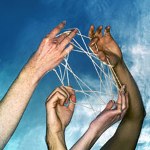 As a means for advancing peace in regions of conflict, R. Scott Appleby, the co-chairman of the task force, believes that it is necessary for the U.S. government to reach out to "religious players" who have generally been overlooked. These players include "schools, hospitals, social services, relief and development and human rights programs sponsored by religious organizations."
Appleby notes that "there's been a real reluctance for people in our government to engage religion," but, he adds, "unofficially, it's become so apparent to people in government who are working on health care, on development, conflict resolution, that if you don't engage religious actors you're left behind."
In addition to contributing to peace and advancing human welfare, such collaboration may help "lessen anti-American attitudes among religious parties." The report finds that these religious organizations have "powerful influence over peoples' lives and loyalties," and, thus, by collaborating with these organizations that are devoted to the betterment of human life, the U.S."can help build good will in religious communities and connect directly with ordinary citizens rather than just engaging with regimes."
The task force report entitled, "Engaging Religious Communities Abroad: A New Imperative for U.S. Foreign Policy," was two years in the making. It was composed by a research team consisting of 32 members drawn from the realms of public policy, religious scholarship, constitutional law, and organizational leadership. The task force itself was sponsored by the Chicago Council on Global Affairs.
The task force report also includes the following recommendations:*
"Mandatory training on the role of religion in world affairs for U.S. government and diplomatic officials."
"Tapping into the expertise and skills of military veterans and civilians returning from the Iraq and Afghanistan wars."
For the President to "clarify that the Establishment Clause of the First Amendment to the U.S. Constitution does not prohibit American officials from working with religious communities abroad in the conduct of foreign policy even though there are constraints on the means those officials may choose to do so."
For America to "engage religious political parties even if they oppose U.S. foreign policy," and
That the United States "reaffirm its commitment to religious freedom and clarify what it means."
The publication of the Task Force on Religion's report prompts two thoughts. First, reviewing the report may be worthwhile. Given the high profile nature of the task force and its access to policy makers, there is good reason for those concerned with the interplay between religion and politics to be aware of the report's findings, recommendations, and potential impact on U.S. foreign policy. Second, the appearance of this report is useful because it reminds us of the importance of investigating the religious influences within America that may be shaping our policies, both foreign and domestic. Similar to the ways in which religious organizations of other countries influence the lives and loyalties of the population and weigh in on governmental policy, so too are lives, loyalties, and policy in America impacted by religious forces. This report challenges us to continue researching our domestic religious context and to mindfully reflect upon the findings.
Links
*Quotes drawn from "US can Benefit by Understanding Religion's Role Worldwide, Report Says" by the U.S. Catholic.
To read David Water's article,"'God Gap' Impedes U.S. Foreign Policy, Task Force Says," in The Washington Post click here.
To read "US can Benefit by Understanding Religion's Role Worldwide, Report Says" by Dennis Sadowski in the U.S. Catholic click here.
To read the full report composed by the Task Force on Religion and the Making of U.S. Foreign Policy click here.