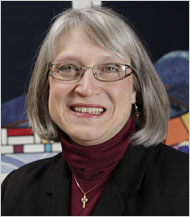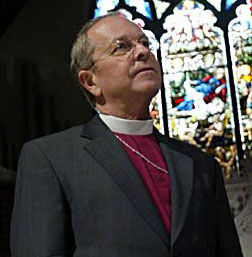 Several prominent ministers played important roles in the 2008 Presidential election, but as the Obama team prepares to take office on January 20 some lesser known church leaders are preparing for a moment in the spotlight. The selection of Pastor Rick Warren to offer the invocation has already caused headlines and consternation among many progressive Democrats. Now the selection of Bishop Gene Robinson, the Episcopal church's first openly gay bishop, to lead an inauguration day event on the steps of the Lincoln Memorial promises to garner further attention. Further, Obama's choice to offer the sermon at the national prayer service on January 21, Rev. Sharon E. Watkins, president and general minister of the Christian Church (Disciples of Christ), is ground breaking in its own right. Rev. Watkins will be the first female minister to play such a prominent roll.
LiberalEvangelical.org has reported on Bishop Robinson in the past. Since his elevation as Bishop of New Hampshire in 2003, he has been both a source of inspiration to many in and out of the Episcopal Church and a consistent lightning rod for criticism from conservatives. By choosing to give Robinson such a prominent role in the inaugural festivities the Obama team may be hoping to blunt criticisms from the progressive wing of Democratic party. Critics have charged that Rev. Warren should have no place in the inaugural due to his opposition to gay marriage and remarks he made comparing gay marriage to incest and polygamy. Robinson's participation has come as welcome news to many gay rights advocates.
Rev. Watkins became the first female leader of an American mainline Christian denomination in 2005. She will deliver a short sermon at the national prayer service, which will be attended by the families of the new President and Vice-President as well as by members of the Supreme Court. Her denomination, the Christian Church (Disciples of Christ) is a partner denomination to Obama's own denomination the United Church of Christ (UCC).