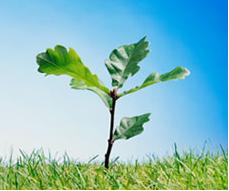 The world's attention is turning toward the health of the environment. We are looking for ways to make our homes and churches greener. But it can be difficult to discern what we as individuals, households, and church communities can do to contribute to the solution.
Daniel McGinn's article "The Biggest Green Companies in America" published in the September 28, 2009 issue of Newsweek, sheds light on our dilemma. McGinn reports on the new initiative by Newsweek to rank the 500 largest companies in the United States based on their environmental impact and sustainability programs. The recently released rankings, called the Newsweek Green Rankings, are the result of a year-long collaborative enterprise between Newsweek and three environmental research companies, KLD Research & Analytics, Trucost, and CorporateRegister.com.
The 500 US companies are ranked by their Green Score, a 100 point scoring system that synthesizes data from three separate components of analysis.
The Environmental Impact component measures a company's greenhouse gas emissions, water use, solid waste disposal, and acid rain emissions – basically, a company's overall environmental footprint.
The Green Policy component evaluates a company's "climate change policies and performance, pollution policies and performance, product impacts, environmental stewardship and environmental management" – the company's degree of social responsibility.
The Reputation component, which is weighted less than the other two components, surveys the reputation of a company based on the opinions of professionals, academics, environmental experts, and industry leaders.
Knowing that they are entering new and complex territory, Newsweek has transparently posted abundant information about the study's methodology that can be accessed through the link below.
When accessed on the web, the rankings may be sorted by Green Score rank, industry sector, company name, or any one of the three components described above. Navigating the ranking list is user-friendly and is easily tailored to an individual's interest. Clicking on a company's name displays more detailed information. For example, when clicking on Hewlett-Packard, the highest-ranked company, one finds brief "Company remarks" and a breakdown of Hewlett-Packard's complete scores and rankings.Newsweek's Green Rankings is a useful tool for environmentally conscious consumers and investors. Where we spend our money matters. The rankings can inform a vast range of purchase decisions from buying stocks to buying church office supplies. We can reward environmentally progressive companies and encourage those that are lagging to catch up. These rankings empower us as individuals, households, and church communities to use our resources in sustainable ways.
Links
Daniel McGinn's article
Green Rankings methodology
Green Rankings list