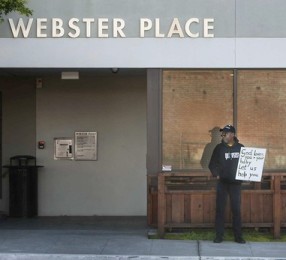 Baptist Pastor Walter Hoye has made headlines for his anti-abortion activism. According to the Los Angeles Times Hoye is a "soft spoken" man who frequently stands outside a CA abortion clinic and waits for patients to arrive. When they do, he tries to convince them to walk away. On one such instance last May, he was arrested. Standing outside the clinic, wearing his "Got Jesus?" ball cap and holding the sign he always brings with him (which reads "God loves you and your baby. Let us help you"), Hoye was arrested for breaking a law intended to protect women entering clinics with an 8 foot "bubble" or buffer-zone.
In January 2009, he was convicted of breaking the Oakland buffer-zone ordinance. Considered a nuisance to patients, the Family Planning Specialists Medical Group – the clinic where he "tried to talk women out of ending their pregnancies" – filed charges against him. Hoye considers this a freedom of speech issue (other anti-abortion activists call it "sidewalk counseling.") But abortion rights supporters call it "harassment."
LATimes says the ordinance resulted from increased complaints of harassment. Jackie Barbic, executive director of the clinic, said that before the ordinance "protesters would actually put their heads in patients' cars – you would have mom and dad bringing their teenage daughter in" and protesters would follow closely. Some of the patients were coming to receive procedures necessary after their miscarriages and the protesters wrongly assumed they were coming for abortions," Barbic noted. This made patients "shocked and upset, and some of the partners would get very angry," she said.
Hoye's attorneys claim that the law "discriminates" against antiabortionists "in general" and against "Hoye in particular." "This is the all about Walter ordinance. You have police officers arresting people for no good reason on the sidewalk. The problem is, Walter is really effective. He is a really nice guy and that really bugs them because they want people to believe that pro-life" activists are "thoughtless and boorish," they argue.
Barbic claims this is not the case. During the trial she and three escorts testified that, though Hoye "never said anything unkind," he was "intimidating" and "aggressive." A videotape was played. Barbic, after having marked off the 8 foot buffer-zone with tape, said "Mr. Hoye, maybe you aren't so good at math, but this is 8 feet, and I need you to stay 8 feet from the patients and staff." He then approached her. "You're frightening me. You're scaring me. Please move away from me," she said. The trial resulted in his conviction.
Walter Hoye and his wife Lori (who often accompanies him on his "sidewalk counseling") have a different interpretation of their antiabortion activism. Walter said he developed "a visceral opposition to abortion" after the birth of their first child, who was "tiny and premature." He then related his opposition to his faith.
As executive elder at Progressive Missionary Baptist church in Berkeley CA, he became frustrated with his church's apathy towards important issues like abortion. This led him to organize a conference called "Issues that Matter." Walter elaborated: "We can hear a preacher preach or a teacher teach [but] we won't know how to vote [or] how to apply Scripture to our everyday life – David slayed Goliath and God will give you a great victory in your life – how do you apply this to abortion?"
Lori says "she gets so angry about abortion" that "she can't trust herself to be calm on the sidewalk." "We try to put ourselves in the position of the child – Would you want someone to try to save your life even at the very last moment? I would want someone to try to save me," she said.
Walter's activism gained momentum three years ago when he was recruited by "white Roman Catholic antiabortion activists who felt an African American man would have an easier time approaching the clinic's many African American patients," says LATimes. (He is usually accompanied by "two black churchwomen," ages 83 and 90.) After his January conviction, his activism skyrocketed. Due to the way he reacted to the conviction, he became "an instant celebrity in the antiabortion movement."
Hoye was offered a light sentence – community service and three years' probation. But the probation meant he could not come within 100 yards of the clinic. As a result he declined this sentence, opting instead for prison. "I did not see how I could maintain my moral convictions, how I could give up my constitutionally guaranteed 1st Amendment rights – The only option left to me was – just go to jail," he recalled.
He served 18 of the 30 day sentence, during which time he was visited by Salvatore Joseph Cordileone, the new Catholic bishop of Oakland. While in prison he "organized Bible studies and led several inmates to Christ," reports OneNewsNow.
Shortly after his release, Hoye was invited to be the featured speaker at California Students for Life conference at UC Berkeley. Rev. Clenard Childress, founder of blackgenocide.org and famous for the phrase "womb lynching" (referring to the "disproportionate number of abortions in the black community") praised Hoye. By May he was "back on the sidewalk" outside the abortion clinic. But he now observes the buffer-zone law by holding out leaflets to patients instead of approaching them.
Though Hoye has not been arrested since he began using the leaflet approach, he says "on the inside, it's tearing me up – the law is unjust."
Links
Los Angeles Times article
OneNewsNow articles here and here
Catholic Online article