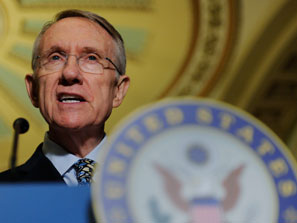 A new bill is up for U.S. senate vote, and Southern Baptists are not happy about it. The Matthew Shepherd Hate Crimes Prevention Act (S.909), a bill endorsed by Senate Majority Leader Harry Reid (pictured at right), is intended to protect "victims of crimes based on gender, sexual orientation, gender identity and disability," reports Politico.com.
The title of the bill includes the name of Matthew Shepherd, who was "murdered in 1998 in Wyoming because he was gay." Announcing Senate consideration of the Bill this Tuesday, July 13, Reid appeared with Judy Shepherd, Matthew's mother. "For the last decade, Matthew Shepard's name has been associated with hate crimes. When this bill passes, his name will thereafter be associated with justice," said Reid.
Having passed House approval in April despite Republican resistance, this bill would authorize "the federal government to prosecute hate crimes when local or state government is unwilling or refuses to do so." The offenses specified under S.909 are "offenses involving actual or perceived religion, national origin, gender, sexual orientation, gender identity, or disability." A poignant section of the bill sheds light on exactly what the bill intends to dissuade – bodily harm. Accordingly the bill states that legal action will be taken against: "Whoever willfully causes bodily injury to any person or, through the use of fire, a firearm, a dangerous weapon, or an explosive or incendiary device, attempts to cause bodily injury to any person, because of the actual or perceived religion, national origin, gender, sexual orientation, gender identity or disability of any person."
Though clarifying that it does not preclude the constitutional right of those who wish to voice their opinions regarding "racial, religious, political, or other beliefs," Southern Baptists are up in arms over this bill with the complaint that it would.
The Baptist Press, a leading news source for the denomination, has posted an article detailing why they reject this bill. Southern Baptist protesters claim that it would "not only expand protections for homosexuals and transgendered people," it may also "threaten religious freedom."
On July 15 "the Southern Baptist Convention's [SBC] public policy quickly issued an e-mail alert urging opposition to the proposal," stating that it would include "sexual orientation" and "gender identity" in the categories already protected under a previous amendment (the National Defense Authorization Act, S.1390). The SBC argued that these two additional categories would protect homosexuals and bisexuals in addition to what they label "transsexuals and cross-dressers." Why this augmentation would be a problem the site does not explain.
Another reason Southern Baptist protesters give is that "Christians and others who proclaim the Bible's teaching that homosexual behavior and other sexual relations outside marriage are sinful" could be accused of "inducing" crimes committed by those who have heard "biblical teaching on the sinfulness of homosexual behavior." For these protesters this means that "prosecutors and law enforcement personnel" would be able to "judge a person's thoughts rather than his deeds." For this reason, they consider hate crimes legislation as "thought crimes legislation," which would give homosexuals "special, protected status under the law based on their actual or perceived sexual orientation or gender identity."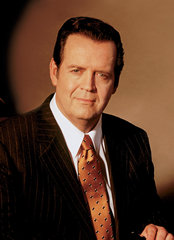 With these arguments in hand Richard Land (pictured at right), president of Ethics and Religious Liberty Commission composed the email alert seeking Southern Baptist opposition to the Matthew Shepherd Hate Crimes Prevention Act, proclaiming that the bill is "just the beginning" of what would "lay the groundwork for prosecuting Christians who share their biblical belief against homosexuality." Thus Land warned his Southern Baptist supporters that "this dangerous bill must be stopped!"
Related Links:
Southern Baptist news source, The Baptist Press
Politico.com article
The full text of the S.909 Hate Crimes Bill
For Richard Land's article on the bill