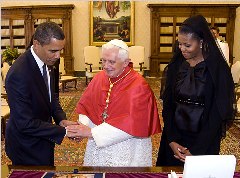 Days ago Barack Obama and Pope Benedict XVI met at the Vatican Palace. The fact that Obama was welcomed in Rome is notable, considering the history of his reception by Catholics; and the abortion issue is the primary point of contention. Though this historic meeting included discussions of the recent G-8 summit topics such as economics, environmental concerns, and global tensions, most Catholic reactions to Obama's meeting with the Pope seem to have centered on pro-life issues.
Catholic Online reports that Patrick Whelan, president of Catholic Democrats, thinks Obama's economic policy fosters a pro-life stance. He said that "Obama's economic stimulus package" is the "best thing for the unborn," because poverty is a factor in abortion statistics. Other Catholics such as Denis McDonough, Obama's deputy national security adviser for strategic communications, emphasize points of agreement between Obama's views and their own. He notes that the president holds beliefs that "many Catholics recognize as fundamental to [Catholic] teaching." One example is Obama's "fundamental belief that each person is endowed with dignity," which is a cornerstone for the President's foreign policy. It is also a core belief within Catholics human rights thinking, and fundamental to the Catholic pro-life position.
Carl A. Anderson, supreme knight of the Knights of Columbus, "told the National Catholic Register [that] the Catholic vision of authentic development includes protecting the dignity of human life, including the unborn." But Anderson also noted an important tension. Because this shared belief in human dignity implies a pro-life position for Catholics but not for Obama, "There is a way in which both the president's and the pope's view of human dignity coincide, but there's also an area in which they are irreconcilably different," said Anderson.
Anderson is not the only Catholic reacting to this tension. Cardinal Georges Cottier, former theologian of the papal household, both criticizes and praises Obama. Catholic magazine 30 Giorni reports that Cottier is in opposition to "Obama's support of legal abortion." However, he also thinks that Obama's plan to reduce abortions proves that "his words go in the direction of diminishing the evil."
This tension has been evident in the way Catholic opinion of Obama has developed since his inauguration.
Earlier this year Breitbard.com reported that Archbishop Rino Fisichella called Obama "arrogant" for overturning a ban on overseas abortion funding, saying he was facilitating the "destruction of human life." Obama's recent address at Notre Dame "ignited a backlash among opponents of abortion rights and embryonic stem-cell research," reported The Lede. At that time Catholic critics said Obama's presence at the Catholic University would be "an outrage and a scandal" and his beliefs "directly contradict fundamental Catholic teachings on life and marriage." At that time Catholic bishop Thomas J. Olmsted said Obama was involving "the American government, for the first time in history," in the "destruction of innocent human life."
Just months later, the Pope welcomed Obama to Vatican.
According to The Huffington Post Obama and the Pope did discuss abortion. The Pope reportedly "stressed the church's opposition to abortion and stem cell research" and discussed disagreements on "prime ethical issues." However, it seems that the Pope did not consider the disagreements weighty enough to decline meeting with Obama.
What will come of the relationship between Obama and Roman Catholics remains to be seen. But the dramatic shift from intense Catholic criticism of Obama to a sit down with the highest Catholic authority – in less than half a year – certainly is perplexing. Perhaps this situation points to more than shifting public opinion. It seems that Obama was perceived at one time by Catholics in a polarizing way, and that more recently his identity as a centrist or moderate is becoming clearer. While Obama's position on abortion has not changed, his acceptance by Catholics clearly has. Could it be that thinking in a more middle-moderate way is the cause?
Links to more information:
The issue covered in Catholic News Online
The issue covered in Breitbart.com
The New York Times article on Obama's Notre Dame address
The Huffington Posts' article on Obama and the Pope regarding stem cell research
The Catholic magazine 30 Giorni