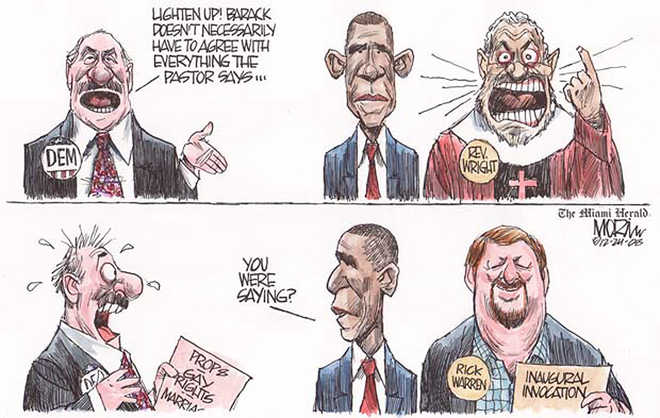 For their first joint appearance of the campaign, John McCain and Barak Obama will appear together on the platform at Saddleback Church in Lake Forest, California for the Saddleback Civil Forum on National Leadership. Both candidates will be interviewed independently by Pastor Rick Warren, author of A Purpose Driven Life and leader of 22,000 evangelical congregants.
Many traditional evangelical conservatives are worried about Pastor Warren's openness to contributions and ideas from both Democrats and Republicans, and see Warren's move to treat the two major presidential candidates equally as a softening of core evangelical values. Progressive Christian groups, on the other hand, are thrilled that Warren is beginning to call more attention to issues of world poverty, AIDS in Africa, world wide political corruption, and malnutrition. While the far ends of the Christian political spectrum debate Warren's priorities and activities, a broad swath of moderates continue to consider his call for a reordering of evangelical priorities. Saddleback's Civil Forum will be carried by CNN at 5 p.m. and streamed live on the Civil Forum website.
Saturday Read the LA Times Article on Warren and the Forum on National Leadership.
Visit the Saddleback Civil Forum Website.
Listen to Krista Tippett's 2007 interview with Rick and Kay Warren on Speaking of Faith.