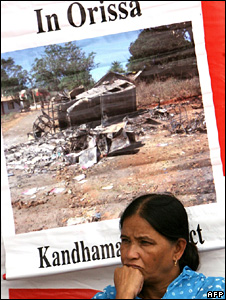 On Wednesday August 12, India was added to the latest edition of the United States Commission on International Religious Freedom's (USCIRF) "watch list." This means that an official United States congressional organization has fingered India as guilty – "guilty of endangering religious freedom."
News sources pinpoint recent anti-Christian and anti-Muslim violence in India, having gone unpunished, as the primary reason for this charge. In other words, India – a "majority Hindu state" – has been accused of failing to protect Christians and Muslims. The USCIRF thinks India has allowed a "disturbing increase in communal violence against religious minorities" to go unchecked, reports Reuters.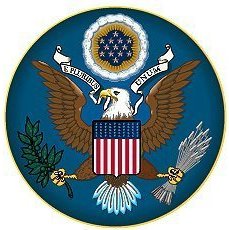 The U.S. Congressional watch list includes other countries, such as Afghanistan, Belarus, Cuba, Egypt, Indonesia, Laos, the Russian Federation, Somalia, Tajikistan, Turkey, and Venezuela.
Attacks on Christians, church burnings in Orissa, the murder of Swami Saraswati, and attacks on Muslims in Gujarat in 2002 have contributed to the commission's concerns about Indian religious oppression. "In both Orissa and Gujarat, court convictions have been infrequent, perpetrators rarely brought to justice, and thousands of people remain displaced" notes the USCIRF (logo pictured below).
GoogleNews reports that "Christians account for 2.3 percent of India's population," and they have been "the target of sporadic campaigns of violence." Last year twenty Christian churches and chapels were either vandalized or destroyed in Karnataka; and earlier this summer the remains of a Catholic priest were discovered in the same area – "the scene of anti-Christian attacks." Vatican official Tomy Mattom says this priest looked like he had undergone an "execution."
USCIRF chairperson Leonard Leo says that India "has a multitude of religious communities," and "it is extremely disappointing" that they have "done so little to protect and bring justice to its religious minorities under siege." Indian authorities are accused of more than simply failing to prevent such violence. In addition to negligence, "court convictions have been infrequent, perpetrators rarely brought to justice, and thousands of people remain displaced," he says.
BBCNews reports that Leo also claims that "India's democratic institutions charged with upholding the rule of law" (i.e. state and police officials) are "unwilling or unable to seek redress for victims of the violence." Thus "more must be done to ensure future violence does not occur and that perpetrators are held accountable," notes Leo.
BBCNews highlights other incidents incurring scrutiny from the U.S. commission. Last year, Kandhamal district in Orissa witnessed weeks of anti-Christian violence after a Hindu leader was shot dead. The clashes erupted after Hindu groups blamed Christians for the killing. More than 1,000 people, mostly Muslims, died in the riots in Gujarat which began after 60 Hindus died in a fire on a train in 2002.
The USCIRF is asking the Obama administration to "urge the Indian government to take measures to promote communal peace and protect religious minorities." The commission says its prior watch list did not include India because "the Indian government declined to issue visas for the trip" necessary to determine the country's status.
Indian governmental officials are not pleased with the USCIRF's action. Indian Foreign Ministry spokesperson Vishnu Prakash says:
India, a country of 1.1 billion people, is a multi-ethnic and multi-religious society. The Constitution of India guarantees freedom of religion and equality of opportunity to all its citizens who live and work together in peace and harmony. Aberrations, if any, are dealt with promptly within our legal framework, under the watchful eye of an independent judiciary and a vigilant media. The reported move referred to in the news reports is regrettable.
What will come of this situation is uncertain. However, it is likely to attract criticism of the U.S. for attempting to police the world, yet again.
Related Links
USCIRF article
Reuters article
BBCNews article
GoogleNews article