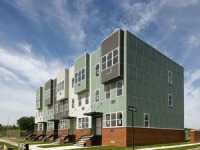 In times when the world's economy is turbulent, when jobs are being cut and homes are being lost, good news can be scarce. But, good news is available because compassionate and creative people do not halt their constructive activities. The recent article "Low-Cost Brooklyn Housing Sees Few Foreclosures" by Jim Zarroli draws attention to one such instance. Zarroli's article highlights the Nehemiah project, a collaborative enterprise launched by East Brooklyn Congregations. These churches have come together to stabilize and invigorate devastated neighborhoods by building affordable housing in Brooklyn and the Bronx.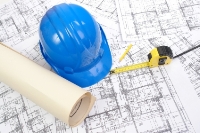 The Nehemiah project has built 4,000 houses since its inception in the 1980s. The project is able to manufacture affordable housing in historically costly neighborhoods by purchasing land that had been abandoned to the city and by controlling building costs. Prior to the Nehemiah project working people with sound credit who reside in these neighborhoods faced meager options for home ownership. Now people have the opportunity to purchase homes for around $120,000, which is substantially more affordable than comparable homes in Brooklyn.
The US mortgage crisis has had a negligible impact on the Nehemiah project. Less than 10 of Nehemiah's 4,000 homes have suffered foreclosure. Why has the project shown such resilience? The Nehemiah project has been insulated from the mortgage crunch because it rigorously evaluates the financial fitness of its applicants. An applicant's mortgage may not exceed 20% of her or his monthly income, and this guideline establishes a cushion in the case of reduced working hours or job loss. Applicants also have to provide their bank statements for project officials to review. This review practice enables the project to screen out those who may be participating in "illegal activity" since applicants are required to explain any "sudden infusions of cash."
These strict and invasive policies of the Nehemiah project "chafed" some applicants, yet most "were willing to tolerate them as the price of maintaining a stable neighborhood," writes Zarroli. When the benefit of stability is combined with affordability, the rigorous process is worth enduring. Sarah Plowden, a Nehemiah homeowner and official states,"We more than just bought homes. We bought into one another as a people."
The Nehemiah project has proven so attractive that applicants who were formerly denied rehabilitate their credit, increase their down payment, and re-applied. "As often as not," writes Zarroli, "they were accepted the second time around."
Nehemiah's financial stringency inevitably excludes some applicants; however, as the author Alyssa Katz observes,"It brought the entry point into home ownership to a point that working people could afford, in a very, very expensive city, where people who make modest incomes invariably rent. So on the contrary, rather than decreasing opportunities for home ownership, it was opening them up to an entire group of people who had never had access to it before, and it did it on sustainable terms."
As the Nehemiah project illustrates, progress can be made amidst trying times. When compassionate people come together, construct a shared vision, and cooperatively embark on a project, tangible, life-changing gains can be made.
Links
To read "Low-Cost Brooklyn Housing Sees Few Foreclosures" by Jim Zarroli click here.