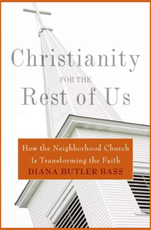 Christianity for the Rest of Us: How the Neighborhood Church is Transforming the Faith. By Diana Butler Bass. HarperOne, 2006. 278 pages. $13.95.
If change is central to Christ's message, why do so many Christian churches resist change? If congregations are dying regularly, is there any hope for the mainline Christian Church? Through a three-year study, which included traveling to mainline churches across the nation, Diana Butler Bass sought to answer these questions. What she found was both truth-telling and hopeful. Mainline churches that listen to Christ's message of the necessity of change are growing and thriving; meanwhile, mainline churches that resist change are slowly dying. The purpose of this study was to find churches that embrace change and tell their stories in order to build bridges of hope from despair to renewal. Bass divides Christianity for the Rest of Us into three parts, What Happened to the Neighborhood Church?, Ten Signposts of Renewal, and From Tourists to Pilgrims.
Diana Butler Bass is an "author, speaker, [and] educator", as the title of her blog declares. She writes in order to "help people understand faith both analytically and personally." As Bass' sixth book, Christianity for the Rest of Us is a bestseller which serves to help congregations reevaluate their growth process and worship style. Bass' analysis of American Christianity is so greatly respected that she has appeared in Today, Time, Newsweek, The Washington Post, CNN, FOX, PBS, and NPR. As a respected scholar she contributes regularly to Sojourners' blog, God's Politics, created and maintained by author, Rev. Jim Wallis.
In the first part of the book, "What Happened to the Neighborhood Church," Bass reflects on her childhood and what it was like growing up in a Christian neighborhood during the 1950s and 60s. She reflects on the good and the bad. She remembers that her neighborhood was safe enough for a young girl to wonder the streets alone, she remembers the sense of communal responsibility for one another; but she also remembers the inherent racism within her church community. She recalls the "moral failings" of the American Christians such as "wholesale evils like slavery, the genocide of native peoples, persecution of non-Protestants, racism, and violence against women and children" which entirely affected the mindset of her faith community during her childhood (31). Bass ponders the good and the bad ways in which change has influenced church-based neighborhoods. After much reflection, Bass admits that change was overall good, but that many congregations still need to learn how to adapt to this change. She focuses on the necessity of change in the lives of Christians and the way in which "Jesus insists that every person he meets do something and change." She emphasizes how the need for change is rooted in the scriptures, and how metanoia, "the change of heart that happens when we meet God face-to-face", is central to Christian faith (24).
In part two Bass delves deeply into the framework of successful churches in order to name the necessities for church growth. She does this by identifying the "Ten Signposts of Renewal" as Hospitality, Discernment, Healing, Contemplation, Testimony, Diversity, Justice, Worship, Reflection, and Beauty. These tens "signposts" serve as stepping stones which lead to church growth. The seventh signpost, Justice, is the defining factor of church renewal. Bass finds that Christians "enact justice through practices of hospitality, prayer, discernment, testimony, and diversity" (161). Christians inevitably include the first six signposts when they realize the "politics" of the Gospels and embrace justice. The "politics" of the Gospels are nothing less than true justice, and true justice is "servanthood." To explain the strength which comes from justice, Bass uses the example of Cornerstone United Methodist Church in Naples, Florida. This church celebrates the legacy of Rev. Dr. Martin Luther King Jr. and embodies Dr. King's theology as their own. However, before praising Cornerstone for their theology of justice, Bass imagines what the white, middle-class, Methodist church would have thought about justice fifty years ago. She remembers from her own Methodist upbringing that "Christianity was about being polite, not about God's politics. Indeed, most of the adults in my church thought Martin Luther King was a Communist and a heretic…" She continues to say, "When he was assassinated, I heard some of my relatives say that he deserved it" (159). Yet somehow during the past fifty years, mainline denominations have grown to embrace justice and understand it as Dr. King had intended; justice no longer belongs solely to the courts, it belongs to everyone and is worth fighting for. When churches embrace this need for justice, they begin to reach out to their neighbors and communities; and when they reach out they learn how to be hospitable, how to discernGod's call, how to heal the"sin sick soul", how to contemplate the meaning of worship, how to give personal testimony to their faith, and how to openly embrace and welcome diversity. By embracing and embodying justice, Bass finds that churches learn how to BE the Christians that Christ calls them to be. After justice is embraced, "innovation" and "experimentation" with worship are easy, and the welcoming of new Christian "tourists" is inevitable.
In the third and final section of Christianity for the Rest of Us, Bass brings to light the goals of church renewal. The first goal is to transform "tourists" into "pilgrims". She uses the example of Trinity Church in New York City, located near the site of the World Trade Center. Trinity is known for its "tourists", those who come to the church in order to seek peace and understanding after visiting the World Trade Center site. Rev. Dr. Jim Cooper, senior pastor at Trinity, tells Bass about his experience with the "tourists". Cooper explains, "I don't want them to leave as tourists. I want them to become pilgrims. I want them to connect, to know that there is something more" (215). Bass relates Trinity to every Christian Church. Every church in every neighborhood has "tourists". Some "tourists" may visit twice a year, at Christmas and Easter, while others come only when they are in deep despair and in need of answers. Every church has an hour (at least) to help these "tourists connect", to help them "discover that journeys can become pilgrimages." The point being that when the "tourists" becomes "pilgrims", they can "go somewhere", somewhere that leads to a "transformed life". By encouraging "tourists" to become "pilgrims", churches invite the "pilgrims" to join in the pilgrimage with brothers and sisters in Christ in order to grow closer to "God's love and shalom" (216-17). Bass ends the book by returning to her original point. She returns to the notion of change and she ultimately challenges churches to embrace change. Bass admits that "church is often viewed as a place to escape change, to cling to old ways" (241), but she empowers churches to resist this traditional conformity and to join in the pilgrimage with the Holy Spirit so that they can experience God in a new, life-giving, way.
Bass takes a three-year-long study and turns it into a guide for congregational transformation. She uses examples of congregations that were once face to face with demise; these now blooming churches are able to instill hope in similar congregations. A more cynical author may have used a study like Bass' in order to emphasize the negatives, but Bass doesn't dwell on the negatives of church decline; instead she focuses on the positives, and the ways in which congregations embodied their Christian faith in order to grow and become vessels of the Holy Spirit. Christianity for the Rest of Us is an amazing tool for any congregation facing decline. The book serves as a resource for a church in need of growth. I would recommend that church growth committees, deacons, and ministers read this book and use it as a resource for church renewal. Bass has created a masterpiece, as many other reviewers concur, that can be read in part or in whole; she has formulated her research so that it is both helpful and hopeful. Christianity for the Rest of Us is certainly an informative tool that will guide congregations into twenty-first century ministry.
Elizabeth Keyes
Boston University