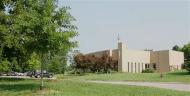 On July 27 during the performance of a children's play Jim Adkisson burst into the sanctuary of the local UUA church in Jackson Tennessee and opened fire with a shotgun. He killed 2 people and seriously wounded 2 others.
A note left by the gunman implicated the UUA congregation in the "liberal movement" which he blamed for his recent problems. The president of the UUA has released an official statement on the violence and continues to keep the denomination apprised of developments through an official webpage on the UUA site. The page includes a link to a message board where supporters can post prayers and statements of support.
For more news visit The Knoxville News Sentinel, which is dedicating its front page to covering the story.