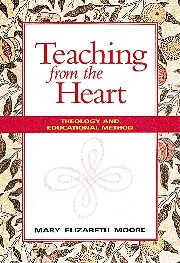 Roy Smith, a Boston University theology student, has contributed a study guide for Mary Elizabeth Moore's Teaching From the Heart: Theology and Educational Method. Smith provides an in-depth examination of four of the chapters from Moore's book, complete with activities, homework, and discussion questions.
Moore's work examines the ways in which academic theology and religious education can be made to be more connected and involved with each other. As it is now, Moore says, there is a great deal of conflict between the two groups. Theologians feel that educators are not taking theology seriously enough, and educators feel that there is a lack of theological interest in the basic issues of their work. This is particularly troubling because the two disciplines are interdependent, and exercise influence on one other.
Moore presents an argument for organic teaching and theology in order to encourage connectivity and contribution between both disciplines. Moore tries to create a dialogue between both groups by advocating ways of teaching and learning that are acceptable to both camps, and by advocating a theology that encourages such an integrative approach.
Moore's book and this study guide will be of special interest to working religious educators, to ministers seeking a more integrative conception of education within church communities, and to seminary students wanting to integrate their work in education and theology.