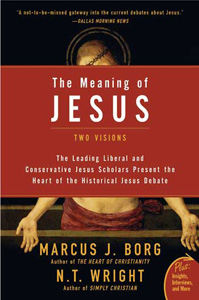 Jay Ford, a Boston University theology student, has contributed a four week study guide for N.T. Wright and Marcus Borg's book: The Meaning of Jesus: Two Visions. This study guide is meant to create the possibility for dialogue between liberal and conservative Christians on the differing views on Jesus.
Normally, the topic of Jesus is ignored by both liberals and conservatives as either pointless or damaging, but a thoughtful dialogue allows each group a better understanding of the other, and puts important issues at the forefront, rather than ignoring them. Ford provides helpful ideas for discussions, questions and conversations on many of the differences between philosophies and opinions that Wright and Borg's book presents.
This study (and the book) address issues like how we should interpret our knowledge of Jesus from the Bible and other sources, and how we should reconcile and interpret these sources (either as actual miracles, or as metaphors). In a similar vein, Borg, and Wright address Jesus's divinity and resurrection (and how to interpret them) in their own chapters because of the centrality of these issues to Christianity.
Finally, the issue of what all this debate means to Christian life and theology is addressed by both authors, and presents some points of common ground between Wright and Borg's different philosophies.
This resource is available to registered members of LiberalEvangelical.org; see the Resources Menu after you log in. Membership is free for everyone and gives you access to resources, archives, and a discussion forum.