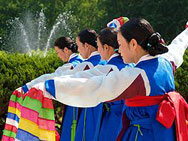 Dan Kim, a theology student at Boston University, has created a workshop examining the causes of disunity within Korean immigrant churches. The workshop illustrates how a radically inclusive liberal-evangelical perspective could offer insights and potential solutions to this problem. Kim's observations are not just relevant to Korean churches, however – there is a lesson here for people from many groups and denominations.
Kim first examines the root causes of the schisms between churches. While many issues like differences in opinion on leadership or fiscal policy may cause a split, Kim concludes that many unaddressed cultural differences between first-generation (not highly Americanized) and second-generation (Americanized) immigrants lie at the root of these splits.
Kim concludes that the single most divisive factor between the two generations is assimilation, which includes both language and culture elements. First-generation Koreans usually prefer to conduct their services in Korean, while the second generation tends to communicate in English.
This can lead to many problematic situations. Either one service is held in one language and translated to the other – leading to a breakdown in communication and a sermon that doesn't resonate with one subgroup – or two services are held in parallel. Neither outcome is desirable because it effectively reinforces a split within the church's membership.
There is also a basic difference in culture between the two groups, which leads to very different theologies and worship styles. These culturally powered theological tensions make a church more likely to fall apart when a challenge arises, particularly in smaller immigrant churches.
Kim suggests that simple solutions like a direct translation of a sermon or a willful simplification of the service to reduce cross-cultural tensions do a disservice to the church. Instead, Kim says that it is better to admit and accept differences between cultures and embrace them. Instead of focusing on differences in theology, it is vital to accommodate other people's views in one's own ideology, and focus on the elements that unify all Christians.
This resource is available to registered members of LiberalEvangelical.org; see the Resources Menu after you log in. Membership is free for everyone and gives you access to resources, archives, and a discussion forum.